Postgraduate Graduation Ceremony 2020 was Held at HBUT
On the morning of July 6, the graduation ceremony and master degree conferment ceremony for the 2020 postgraduates of Hubei University of Technology was held in the library lecture hall. General Secretary Li Keqin awarded certificates to outstanding graduate students, while the Deputy Secretary and President Liu Defu voiced a sincere message to all graduates. University leaders attended the ceremony, including Cai Guangxing, Gong Fayun, Wang Kan and Yan Liezhou. The ceremony was presided over by Li Dongsheng, a standing committee member of the party committee, and vice president of HBUT.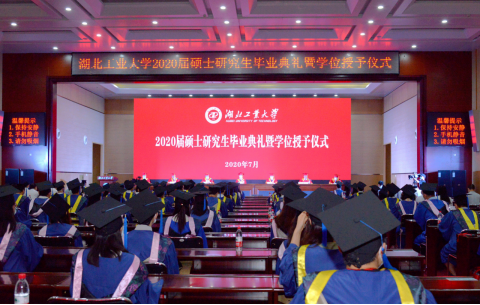 The ceremony began with the national anthem. Vice President Gong Fayun announced the document Decision on Master Degree Conferment of 736 Postgraduates. Subsequently, Cai Guangxing, Deputy Secretary of the Party Committee announced the document Decision on Commendation of Excellent Postgraduate Students 2020 and Decision on Commendation of Top 10 Excellent Postgraduate Students 2020.
General secretary Li Keqin awarded certificates to these outstanding graduate student representatives, and encouraged them to continue their efforts with brilliant academic deeds and create greater glories.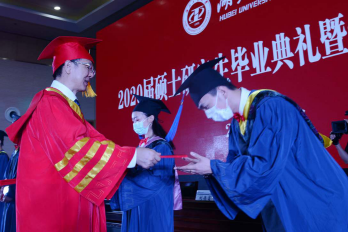 Excellent graduate student Li Lei from School of Civil Engineering, Architecture and Environment delivered a speech in the ceremony. He reviewed the past three fruitful academic years in HBUT, and called on students to always be grateful, innovative and self-reflective, and love the country, university, teachers, classmates and families. He wished for every student to realize their dreams with blessings and expectations.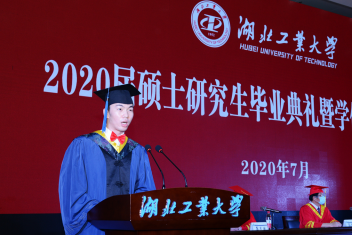 Ye Zhiwei, Dean of the School of Computer Science, voiced a simple but touching message to all graduates on behalf of supervisors. He hoped that everyone would continue to study, adhere to their faith and sincerity, and always insist on combining personal development with industrial and national development. Students shall use their professional theories, knowledge, and technology to build the country and serve the people heart and soul to achieve a wonderful life and career.
President Liu voiced a message of affection to all graduates, which was titled "Remain True to the Original Aspiration and Keep Moving Forward Steadily". He expressed his warmest congratulations on behalf of the university to all graduates, and reviewed the memorable time spent with the students over the past three years. He expressed his gratitude to all students for their efforts and contributions during the epidemic prevention and control period this year. Liu encouraged all graduates to be courageous, and dare to be innovative in the future, constantly strengthening their ideological refinement, tempering strong character, and forging ahead in the pursuit of excellence.