Undergraduate Graduation Ceremony 2020 was Held at HBUT
On the morning of June 24, the graduation ceremony and bachelor degree conferment ceremony for the 2020 undergraduates of Hubei University of Technology was held. General secretary Li Keqin voiced a sincere message to all graduates while the Deputy secretary and President Liu Defu presided over the bachelor degree conferment ceremony. University leaders attended the ceremony, including Cai Guangxing, Hu Xiaoyan, Li Dongsheng, Wang Kan and Yan Liezhou. The ceremony was presided over by Gong Fayun, a standing committee member of the party committee, and vice president of HBUT.

The graduation ceremony was broadcast live online and offline simultaneously. 4,571 undergraduate graduates, their family members, all HBUT students, alumni and friends who always support and care about the development of HBUT, attended the grand ceremony via cloud access.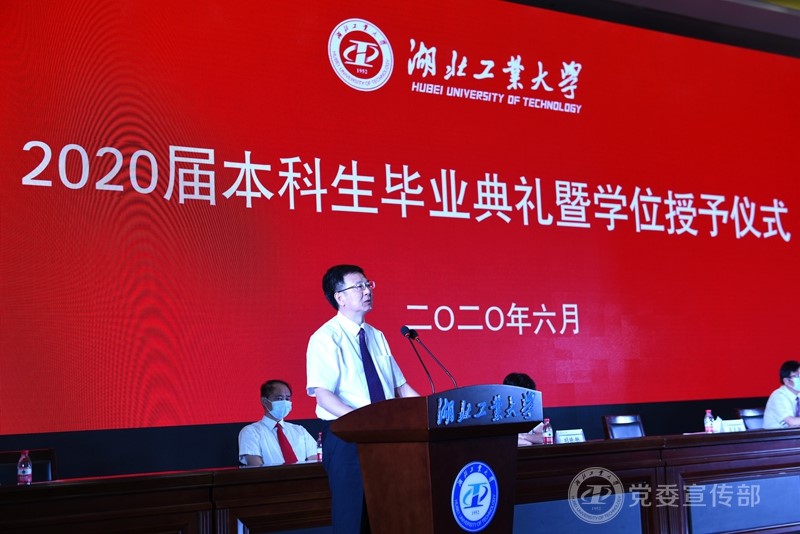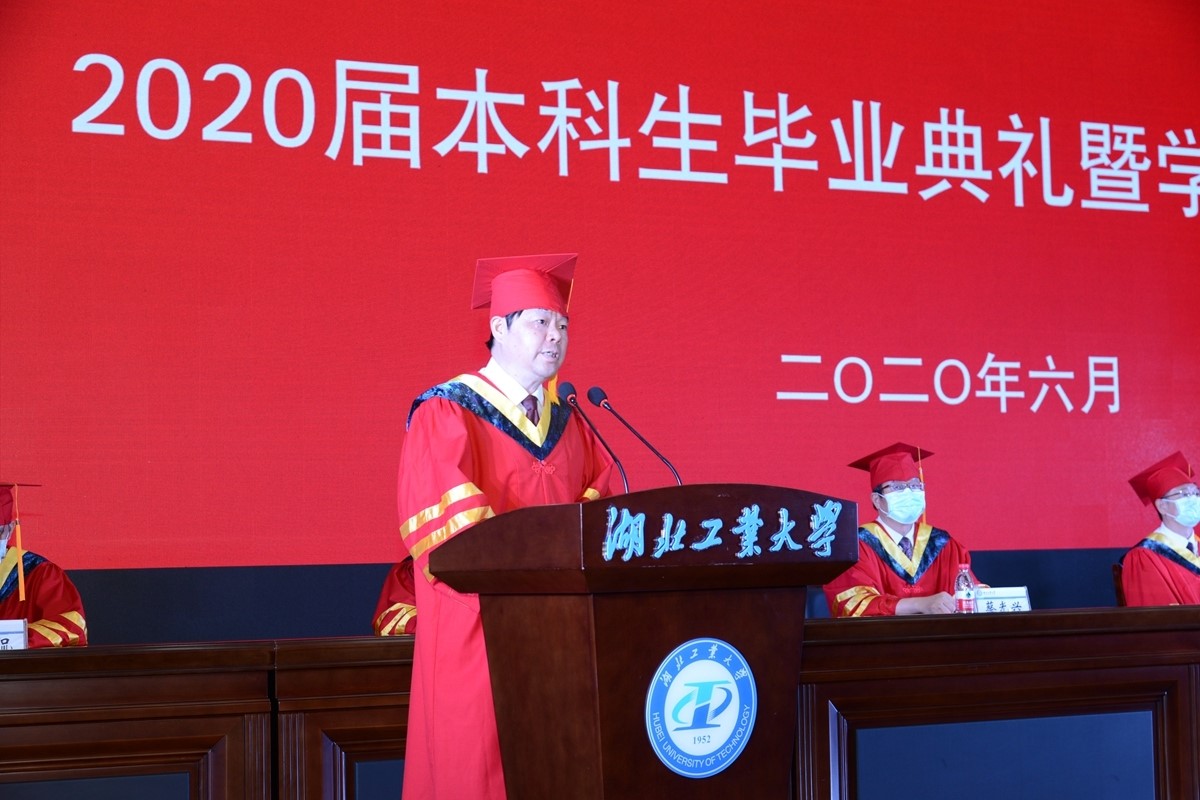 At the beginning of 2020, our precious university life was ruthlessly blocked by the COVID-19 pandemic. In this special graduation period, the dynamic background music, memorable graduation photos and customized bachelor's uniforms excited and touched all graduate students.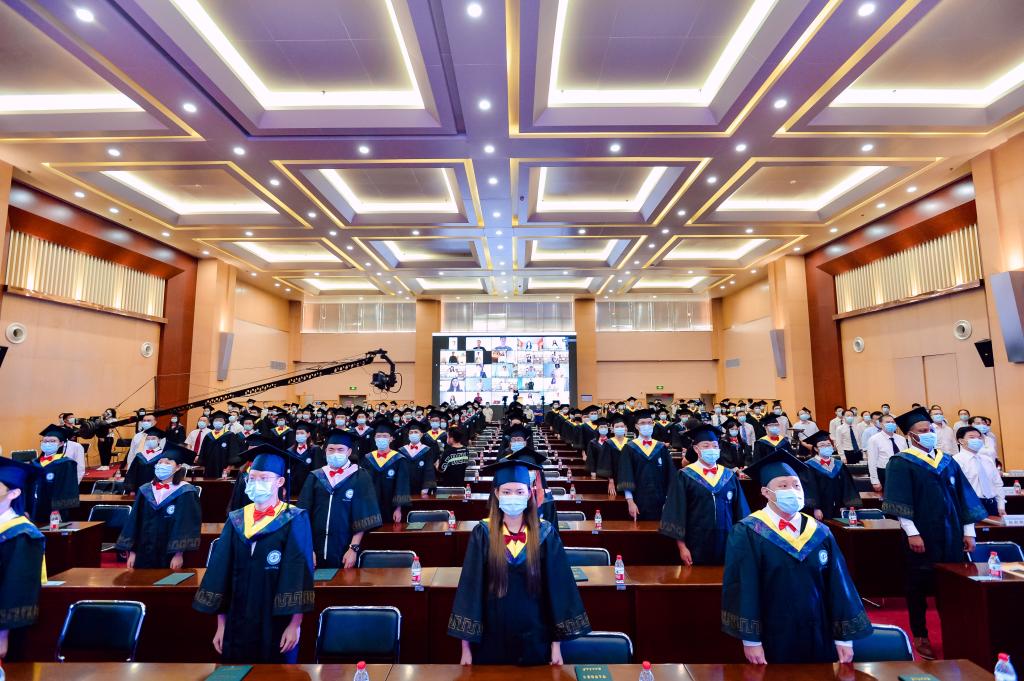 President Liu Defu announced the document Decision on Bachelor Degree Conferment of 4,125 General Undergraduate Graduates.
All university leaders conducted the tassel-turning rite for 118 on-site graduates. The tassel-turning rite this year will be broadcast online and offline simultaneously. Those graduates who failed to appear in the ceremony invited their parents, relatives, and community secretaries who are important to their growth, to turn the tassel and draw a successful ending to their university life. President Liu encouraged graduates who did not participate in this ceremony to complete the significant tassel-turning rite at home, or among their community,or with their internship unit. He wished all students a successful career and an infinitely bright future.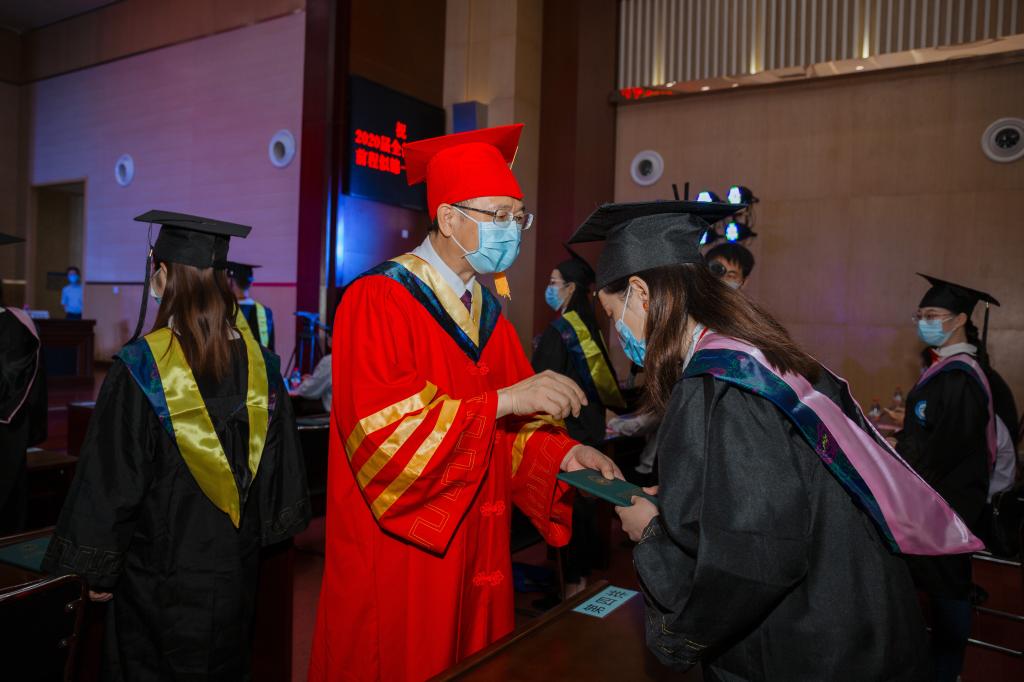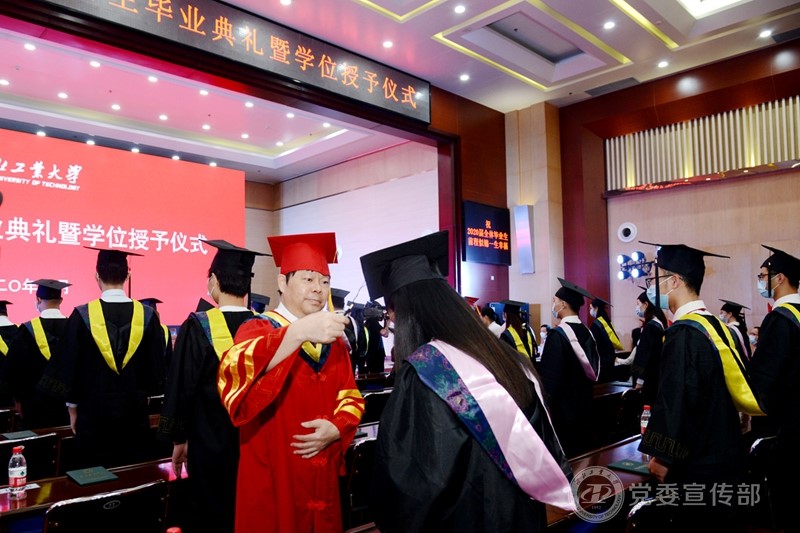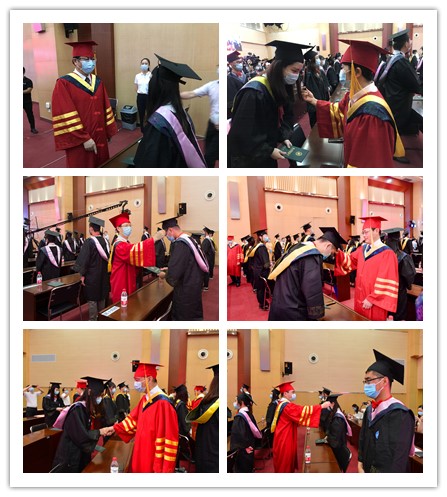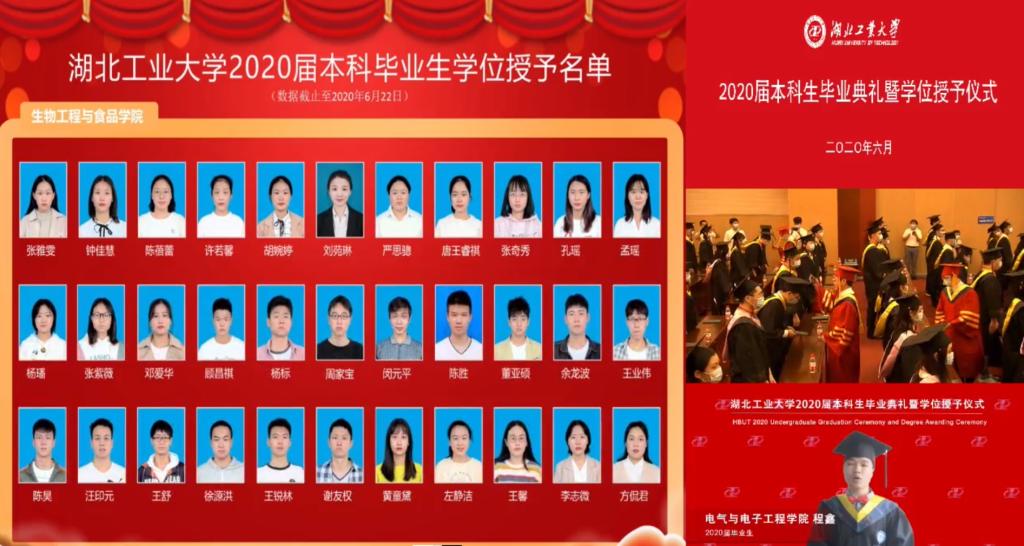 On behalf of all graduates, Liu Yuanlin, a graduate from School of Food and Biological Engineering, expressed her gratitude and blessing to HBUT, and expressed that she would continue to uphold the motto of "the cultivation of virtue, expansion of knowledge, pursuit of truth, and stimulation of innovation", and continue her professional study to pay back her almamater and society. Su Long, an international graduate from Cote d'Ivoire, expressed his gratitude to the university for his four-year cultivation and all-round protection during the epidemic period and determined to apply the Chinese people's tenacious anti-epidemic spirit to inspire themselves to build a community of human destiny. Professor Sun Guodong from the School of Mechanical Engineering spoke as a teacher representative. He inspired all students to contribute to the realization of the "China Dream" of national prosperity, rejuvenation and people's happiness. Luo Zhenglin, the 1999 alumnus and deputy general manager of the China Construction Shenzhen Decoration Co., Ltd., Curtain Wall Branch, shared his experience on participating in the Huoshenshan Hospital construction and witnessing the "Power and Speed of China" in the prevention and control battle against the COVID-19 epidemic. He encouraged all students to always remember the identity of HBUT, and to contribute to the development of China with a solid sense of responsibility.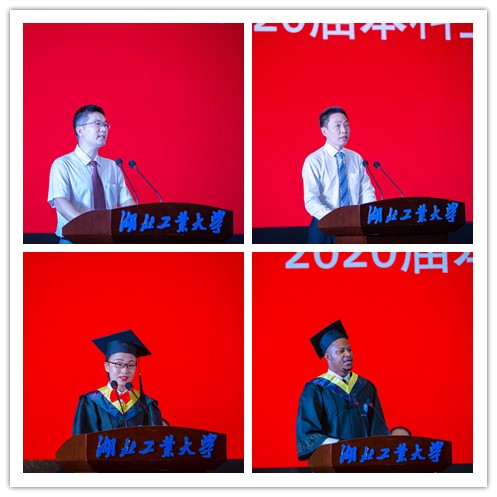 General secretary Li Keqin gave an address to all the graduates with the title "Facing Changes in the future with Courage and Wisdom". He pointed out that the university is not troubled by the sudden epidemic this year, and all of you should face the unknown future changes with courage and wisdom to turn crises into opportunities. Li encouraged all graduates to face change with courage, faith and responsibility, learn to live, to survive and to develop in the journey of life. Every student should be utilizing and accumulating wisdom in learning, social practice and team work to grow healthily and turn troubles into happiness. He particularly emphasized that the youth should use courage and wisdom to develop and improve themselves during the critical period of reform and opening up and the "Two Century Goals". Finally, Li sincerely wishes all graduates good physical and mental health, smooth employment, happy life and vigorous growth, living up to the era of youth, and making contributions to the country, society and family.
A special video was also broadcast at the ceremony, which was specially recorded by teachers and employees to express a farewell to all graduates at this special moment. The video sends blessings to all 2020 graduates around the "HBUT Spirit", and wishes and instructs the graduates to keep moving; "The star will never stop those who are pursuing their dreams, the time is equal to everyone who is conscious of it and working hard", "No matter where you are, HBUT will be your home forever".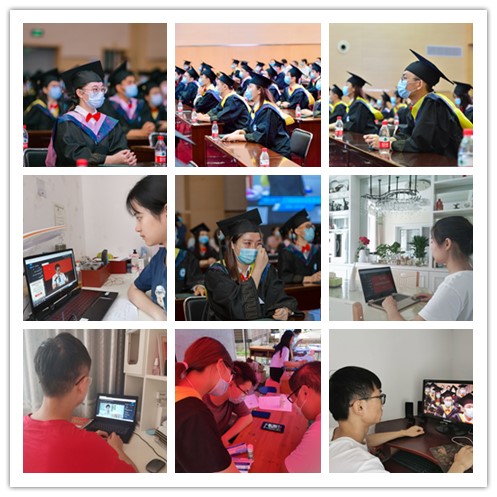 The ceremony was successfully concluded with the affectionate chorus of the Hubei University of Technology anthem. It was broadcast live on the Qiangguo App and Weizhan Platform with an online audience of 37,000.