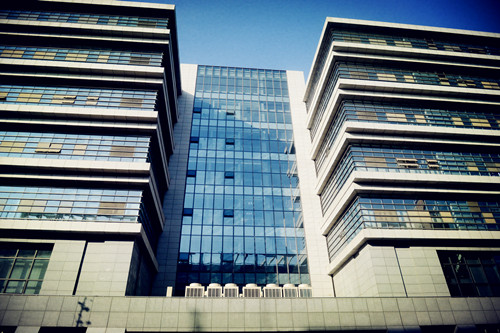 The library is an information center, learning center, cultural and academic communication base of Hubei University of Technology. It has been designated as an outstanding library among higher education colleges of Hubei, a member of the Library Society of China, and a CNKI (Chinese National Knowledge Infrastructure) class-one service station. The Hubei Mechanical Industry Information Station affiliated with the library (Hubei Electro-mechanical Literature Novelty Search Center) is one of the earliest novelty search organizations designated by Hubei Provincial Committee of Science and Technology in 1991. The library has maintained constant cooperation with the Novelty Search Station of the Ministry of Education, Huazhong University of Science and Technology.
The library is located on the centerline of the campus. The floor area is 18,914 m² and the total construction area is 48,600 m². The library has 7 floors and can hold 3 million volumes of books and over 5,000 seats. The concepts of energy-saving and natural light illumination are reflected in the structural design. The overall pattern (upper layer, lower layer, east, west, north, and south) takes the form of a garden, thereby enhancing ventilation, sectional temperature control, and energy efficiency. It is a green building.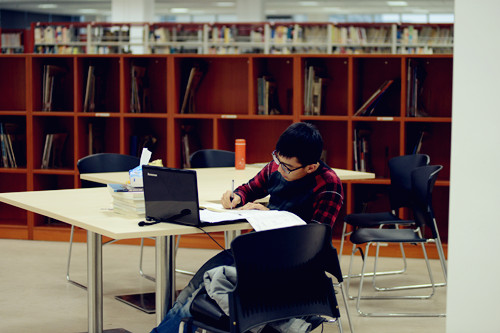 The library has two public spaces dedicated to innovation and entrepreneurship, one library-enterprise joint innovation and entrepreneurship space, ten sub-libraries (light industry, arts, architecture, electro-mechanical, etc.), six reading rooms (examination, reference, etc.), three compact stacks, an inventory of books published by Hubei University of Technology, a multifunctional auditorium that can hold 400 people, an indoor/outdoor greenbelt, garden, tea house, coffee bar, and more.
The library applies integrated management of inventory, loan and reading services. The campus smart card is used in all procedures of management. The library has complete functions, modern service modes, all necessary facilities and diversified contents that meet demands of the users. Besides book loans, the library offers other services, including novelty search, document delivery, consulting, research topic searches, data retrieval, discipline services, enterprise services, and literature retrieval training for all users of the university, etc.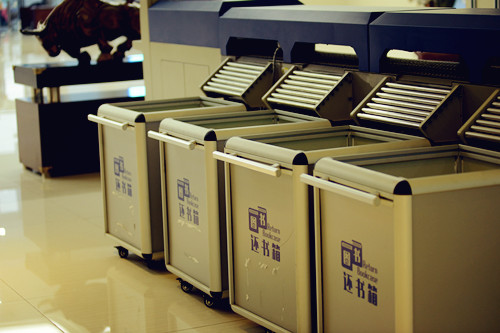 In 1994, the network management system was established. In 2001, a Libsys2000 management system was put into operation, allowing online union cataloging with other libraries at home and abroad, data resource sharing, online reservation, book renewal, recommended buying, book inquiry, and personal information viewing, etc. Currently, the library has a connection to the 10GB campus bus line. Access speed for end user computers is 1GB. Full Wi-Fi coverage will be realized in the future. The Machine room of the library is equipped with the best equipment, including over 80 core switches and various other types of switches, 18 servers, and optical-fiber communication SAN storage system with a capacity of over 160TB. The library services are greatly facilitated by other technologies including EMID double-safety self-service system, information releasing system, search system, monitoring system, central air-conditioning system, wireless LAN system, self-service printing and photocopying system, and multimedia conference system.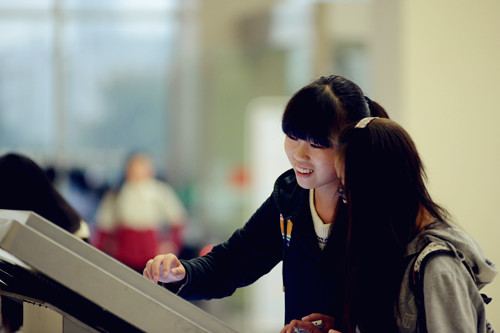 The library has access to many internet resources, including SCI, Elsevier, Engineering Village (EI), Springer Link, EBSCO, CNKI, CqVip, Wanfang Data, Chaoxing, China National Standard Full-text Database, Renmin University of China Photocopy Database, Chinalibs, book CD database, excellent online courses, etc. There are also some featured databases developed by the university, including Hubei University of Technology Doctoral and Postgraduate Students' Theses Full-text Database, Hubei University of Technology Undergraduate Students' Theses Full-text Database, and High Polymer Material Journals Database, etc.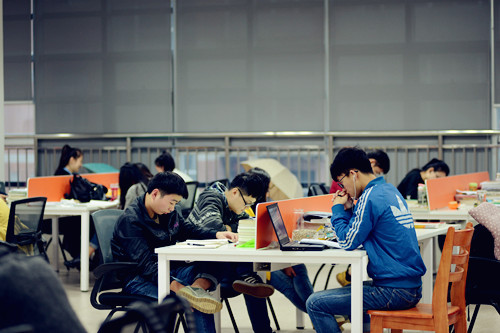 Readers are the top priority of the library, and to serve the needs of education is its mission. With massive digital data archives, advanced distributed management system, and smart service model, the library is intended to become a modern and advanced digital data access and resource-sharing platform of the province, featuring digitized content, internet management, intelligent and human-oriented services, and energy-saving and environmentally-friendly concepts.